The Holy Mt. Kailash - Mansarovar Yatra
---
Introduction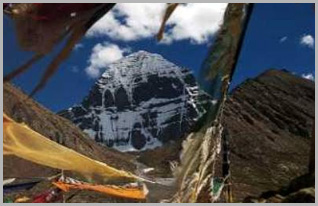 Mt. Kailash, 6,740 m. is situated to the north of the Himalayan barrier, wholly within Tibet. It is the perfect mountain with awesome beauty, with 4 great faces. It is the spiritual center for four great religions: Tibetan Buddhism, Hinduism, the Jain religion and the pre-Buddhist animistic religion - Bonpo. To Tibetans it is known as Khang Rimpoche (Precious Jewel of Snow) and they see it as the navel of the world. It is said that a stream from the mountain pours into a nearby lake and from here rivers flow in the four cardinal directions. The River of the Lion Mouth to the North, the River of the Horse Mouth to the east, the River of the Peacock Mouth to the south and the River of the Elephant Mouth to the West. Strangely enough, four major rivers do indeed originate near Kailash, the Indus, the Yarlung Tsangpo (Brahmaputra), the Karnali and the Sutlej. Tibetans believe that it is the residence of Demchog, a fierce looking tantric deity who lives there with his consort, Dorje Phagmo. For the Tibetans also, it is a particularly special place in that their poet saint Milarepa, spent several years here meditating in a cave.
A Shiva-linga shaped Mt. Kailash from the Northern Face
For the Hindus Mount Kailash is the earthly manifestation of Mt. Meru, their spiritual center of the universe, described as a fantastic 'world pillar' 84,000 miles high, around which all else revolves, its roots in the lowest hell and its summit kissing the heavens. On the top lives their most revered God, Shiva, and his consort Parvati.

For the Jains, an Indian religious group, Kailash is the site where their first prophet achieved enlightenment. For the older, more ancient religion of Bon, it is the site where its founder Shanrab is said to have descended from heaven. It was formerly the spiritual center of Zhang Zung, the ancient Bon Empire that once included all of western Tibet. Bon people walk around the mountain in a counter clockwise manner, unlike the other religions.

Over the centuries pilgrims have constantly journeyed immense distances to achieve enlightenment or cleanse themselves of sin, braving enormous distances, particularly harsh weather and bandit attacks.
Day 01:
Arrived Kathmandu. Meet and transfer to hotel.
Day 02: 
After breakfast, proceed for half day sightseeing tour of Pashupatinath Temple and Budhaneelkantha. Evening at leisure in Kathmandu. Obtain Chinese Visa.
Day 03: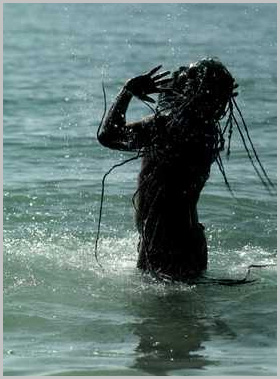 Morning drive to the frontier town of Nepal at Kodari. From here, a short     walk to the friendship bridge for the drive on a local available vehicle to Zhangmu, the main entrance of Tibet, China at the height of 2,300 m. which is about 145 kms from Kathmandu. In Zhangmu, you will be received by guide from our Tibetan counterpart.  After all the formalities at the check post here, our journey continues for another 35 kms which can take almost 3 hours through the up-winding road to Nyalam with beautiful scenery as the drive brings us for the overnight stay at Guest House in Nyalam(3,700 m.).   The lodges and guest houses here are very simple and basic. You can expect the unexpected as the China Tourism in Tibet is slowly picking up since last Decade.
Day 04: 
Stay at Nyalam for acclimatization. The group will be taken for option 3 Hrs. trek in Nyalam which would definately help pilgrims in getting used to Trek conditions for Kailash Parikrama.
Day 05: 
Morning drive to the first pass of Lalung La at 5,050 m. From here a superb view of the high Himalayas can be seen from Gaurishanker, Shisapangma to Langtang Himal. Drive to Saga (4640 m) 240 Kms./ 6-7 Hrs. for the overnight at Guest House.
Day 06: 
From Saga drive to Paryanga(4750 m) 255 Kms/6-7 hrs. drive. O/nt. at Guest House.
Day07:
Drive from Paryang to Hor Qu(4560 m) 225 kms./6-7 Hrs. O/nt. Camp at Banks of Mansarovar.
Day 08
AM Mansarover Parikarma by Jeep with packed Lunch near Trugo Monastery with optional Bathing at the place as this is one of the best banks of Holy Lake for Bathing, Bathing Tents would be arranged accordingly. Time Permitting visit Chui Gompa . PM. Drive to Darchen(4560 M) O/nt. at Guest House in Darchen

Darchen is located beneath the majestic holy Mount Kailash, a small village with couple of guesthouses. During the auspicious pilgrimage time, this place will be flooded with Pilgrims with hundreds of tents all around. Darchen, the beginning and end point of the Kora.
Day 09: 
Drive to Serlungf Monastery & optional trek to Nandi Parbat for an excellent view of Mount Kailsah. The Group will stay O/night at Darchen Guest House & make final preparation for the Kailsah Parikrama. O/night at Guest House.
DAY10:
Drive approx. 08 Kms. From Darchen to Tarboche, the trek starting point of Kailash Parikrama.The first day of our Kora is a gradual walk with multitudes of other local pilgrims chanting and praying. The trail leads us to few ups and downs till we reach our camp at Dirapuk (4,750 m.), after 5-6 hours walk. Camping on the nice grassy meadows with a view of Kailash, north west face.
Day 11:
Today our circumbulation (Kora) leads to much higher side of the holy path just             beneath the Mount Kailash. The walk will bring us to one of the highest point at Drolma La, 5,200 m. before descending to  the gradual field towards Zuthulphuk for the overnight camp after 5-6 hours walk. Zuthulphuk(4700m) has a small monastery.
Day 12: 
The winding gradual tracks finally ends our holy pilgrimage walk (5 hours) & drive to Paryang(270 Kms/6-7 Hrs.).  O/Nt. Guest House. 
Day 13:
Drive to Saga. O/nt. Guest House
Day 14:
Drive to Nyalam. O/Nt. Guest House
Day 15: 
Drive down to Friendship Bridge where transportation awaits for drive to Kathmandu(150 Kms)/4 Hrs.   O/nt. Hotel.
Day 16: 
Morning Free for souvenir shopping and other independent activities. In time transfer to International Apt to connect departure flight
The package price covers:
1-Airport transfers in Kathmandu, Twin Sharing accommodation at 4 Star Standard Hotel in Kathmandu with all meals.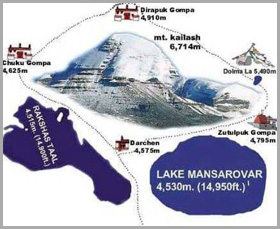 2-Transportation Kathmandu / Tibet Border / Kathmandu by private vehicle, Guest House/Camping arrangement backed by Nepalese Sherpa crew on full board Vegetarian Meal basis, Hiring charge of Sleeping Bags, Transportation inside Tibet by Deluxe 4500 CC Japanese Land Cruiser (4 pax per land cruiser), Necessary Yak & Yak men for Kailash Kora, 3-Applicable entrance fees to visit Monasteries, Normal Tibet Entry Visa fee, One halfday sightseeing tour of Kathmandu valley.